Are you sitting comfortably? Sitting at a desk is a daily occurrence for many and usually people are conscious about the type of chair they're sitting on. But what if we told you that it's not just the type of chair you choose that could make a difference to your comfort, desk height is just as important too. Making sure your desk is at the right height can help to avoid strain and injuries.
Nowadays there are a variety of desks out there including the innovative adjustable standing desk, so it can get confusing what the right height should be. Naturally it will vary depending on the type of desk and height of the person, but we're here to discuss the importance of making sure your desk is at the right height and how to check if it is.
Why desk height is important
First, let's talk about why desk height matters. According to Science Daily, on average workers spend around 5 hours and 41 minutes per day sitting at a desk. On the surface this might not seem bad, but if you're not set up or positioned correctly, just imagine the impact of craning your neck or hunching over for nearly 6 hours per day could have on your body! That's a long time to feel uncomfortable and nobody likes to feel achy after a full day of work.
Not only does this impact your posture, but also productivity. Discomfort often leads to distraction, impacting work efficiency and output, which is the backbone of any business. A simple fix is to provide employees with the appropriate ergonomic equipment and best practice for using them correctly, including a desk at the right height.
How high should my desk be?
The average height of a standard sit down desk usually ranges from 72-73cm, but one size certainly doesn't fit all. There are various ways to determine the right height of your desk but as a general rule the following calculation is a good indicator:
Your height in inches + 1 = Your ideal desk height in CM
Desk height guide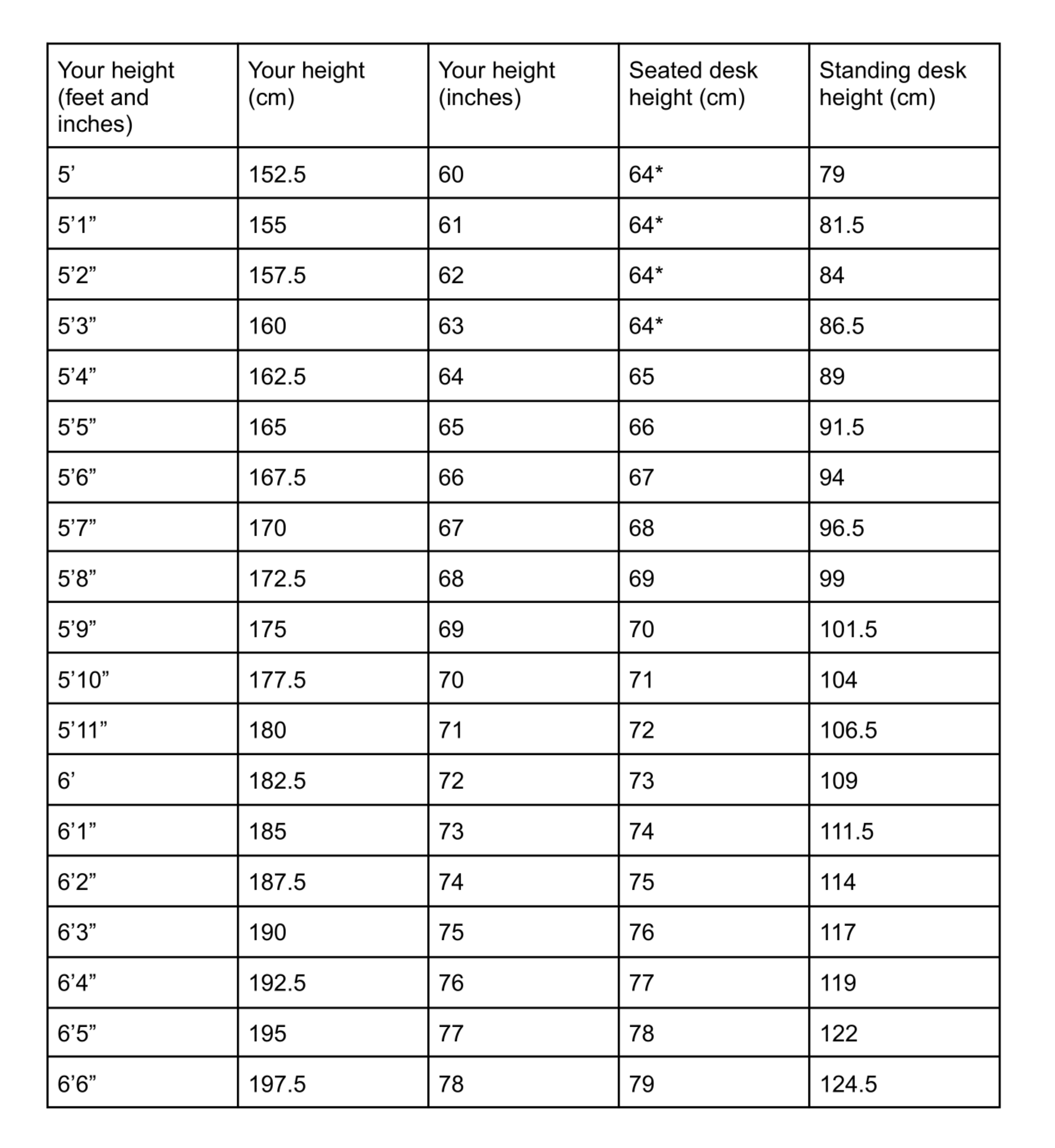 *lowest size desk available at Office Furniture Scene
How to check your desk height
Seated desk height
When sitting down, a person's elbows should be in line with the top of the desk, arms able to lie flat at a 90 degree angle and feet flat on the floor. If the desk is too low your spine will curve forward to compensate which puts unnecessary strain on your back. If the desk is too high your shoulders will rise up straining your neck muscles.
Standing desk height
When standing, your elbows should be in line with the top of the desk at a 90 degree angle. Shoulders relaxed and straight back meaning the top of your monitor should be at eye level. Opting for an adjustable standing desk, such as the Advantage Sit Stand Desk, is a good solution here to cater for each and every one of your employees.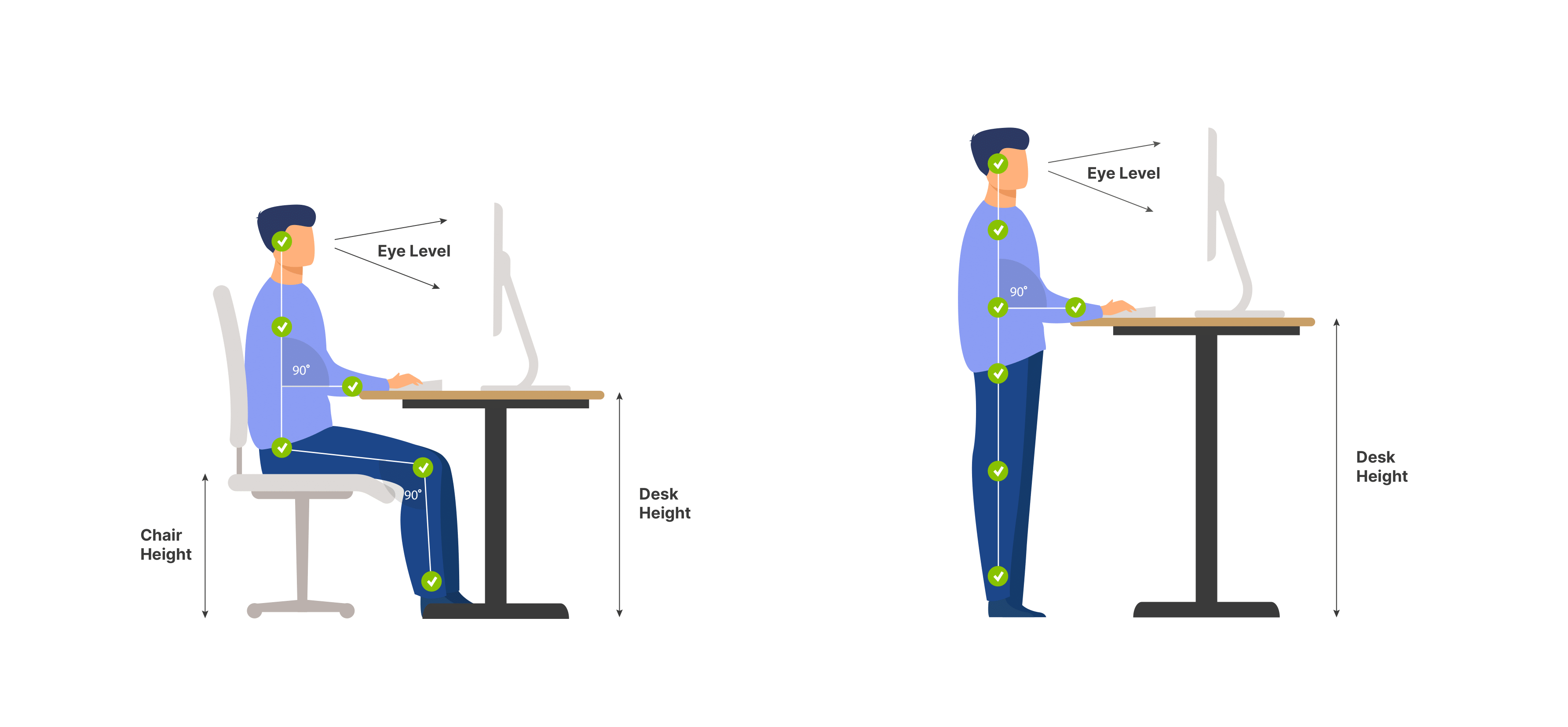 Other precautions
Other provisions which can be taken to create the right working environment, include
Leave plenty of space under the desk to ensure there is enough room for your legs.

Opt for curved cornered desks to avoid bumps and bruises when walking past.

Use a monitor stand to position the computer at the perfect height (eyes level with the top of the monitor).

Choose an ergonomic and adjustable chair.

Comfort counts and it's important to make sure you and your team have the right office furniture, including a suitable desk. This will go a long way in terms of comfort as well as productivity. At Office Furniture Scene we provide a wide range of ergonomic furniture to suit your office needs, with bespoke and customisable options available. Browse our range of office furniture or if you would like any advice call us on 0845 0737230 or email info@officefurniturescene.co.uk.